Learn Combatives from a True Combat Veteran
Rare Opportunity

Pat Tray's USA Combatives Program is an exclusive opportunity for everyone to train in an Elite System and Training Methodology previously available ONLY to the Military, Government and the Special Operations Community.
Custom Designed from Experience
USA Combatives (USAC) was custom designed by our own Trident Academy founder, Pat Tray.  USAC is the culmination of Mr. Tray's knowledge and background; Retired Navy SEAL, Multi-Disciplined and Internationally Respected Martial Artist.  His curriculum combines the most practical, easy-to-learn, yet highly effective techniques and strategies of all the arts taught at Trident Academy.
Training Methods
Training methods are designed to prepare the practitioner to immediately handle any hostile encounter at close range.  Carefully supervised scenario based training exercises assist the student in removing any nervousness or false sense of security.   This is a rare opportunity to train directly with Sifu Pat Tray and his highly trained staff.  All instructors of USA Combatives are experts in all arts taught at Trident Academy; Striking, Grappling and Weapons.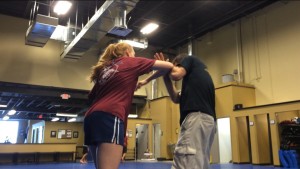 USA Combatives | Class Recap May 6 2014 by Ben and Arturo from Trident Martial Arts on Vimeo.
USA Combatives is taught all over the East Coast and now in Cincinatti, Ohio. Check out our affiliates.
USA Combatives Affiliates
NEW JERSERY
Jerry Smith
Facebook Page
OHIO
Mitch Harris
Cincinatti, Ohio
Queen City Martial Arts
Facebook Page
VIRGINIA
Chad Lebrun
Fredericksburg, VA
Website
Buz Grover
Level 2 Instructor
Linden, VA
Website