Master Pat Tray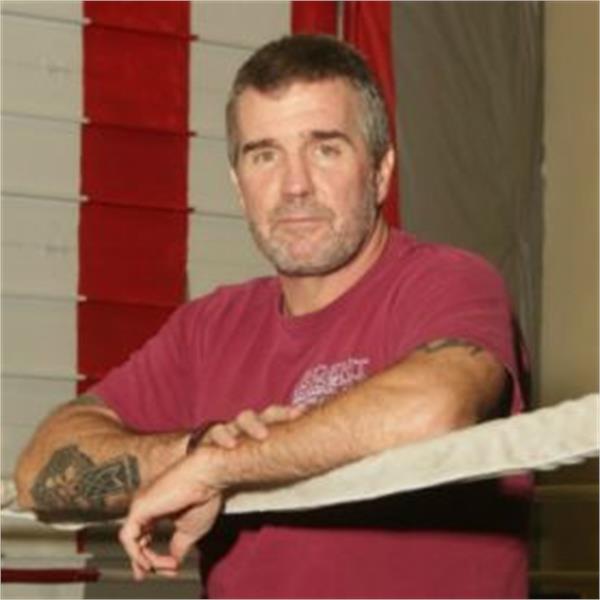 Sifu Pat Tray is the founder and Head Instructor at Trident.  He is a 20+ year Navy veteran operating most of his career in the U.S. Navy SEAL Teams.
Martial Arts Certifications
Pat Tray has earned a Full Instructorship in Bruce Lee's art of Jun Fan Gung Fu/Jeet Kune Do Concepts and Filipino Martial Arts under martial arts legend Guro Dan Inosanto.
Full Instructor "Ajarn" for the D.C. Metro Area representing the World Thai Boxing Association of the USA under world-famous Ajarn Surachai Sirisute.
Full Instructor for JKD and FMA under the extremely talented Sifu Paul Vunak and his Progressive Fighting Systems.
3rd Degree Black Belt, under Master Rigan Machado Brazilian Jiu-Jitsu Association, recognized as the Virginia State and Regional Representative.
Full Instructor and MMA Coach under World-Reknown UFC Coach and Former Shootwrestling Light Heavyweight Champion Erik Paulson in his Combat Submission Wrestling and Brazilian Jiu-Jitsu program.
Professor Ivan
Black Belt BJJ Instructor
Summary: Over 35 years of Martial Arts/Combatives experience plus 24 years in Federal Law Enforcement as a Supervisory Special Agent for the U.S. Department of Justice/U.S. Drug Enforcement Administration (DEA). Mr. Rios was also a DEA Special Response Team (SWAT) member and instructor, a DEA Quick Reaction Team (QRT) member, DEA Tactical Raids Instructor, DEA Firearms Instructor, DEA Defensive Tactics Instructor, and Tactical Emergency Vehicles Driving Instructor. In addition, Mr. Rios is a passionate 3 Gun Shooting competitor.
Mr. Rios is also an instructor and co-founder of the United Krav Maga Association and a senior Tactical 52 (tactical52.com) training group instructor.
Combatives Experience: 
Brazilian Jiu-Jitsu – 3rd-degree black belt
Krav Maga Civilian and Police/Military Instructor – 3rd-degree black belt
Japanese Jujutsu – 4th Degree black belt
Kenpo Karate – 5th Degree black belt
Tae Kwon Do – 1st Degree Black Belt
Certified Virginia Law Enforcement Defensive Tactics Instructor
Experienced in Kick-Boxing, Judo, and Karate
Military Veteran: Mr. Rios served in the U.S. Navy as a Special Boat Team Crewman (Maritime Special Operations) and as a Tactical Intelligence Officer in the U.S. Army Reserve. He is a veteran of the 1991 Persian Gulf War.
Academic: Mr. Rios also completed a Bachelor of Science degree in Criminal Justice Administration and a Master of Arts degree in Criminal Justice Management.
Khun Kru Mikey Custodio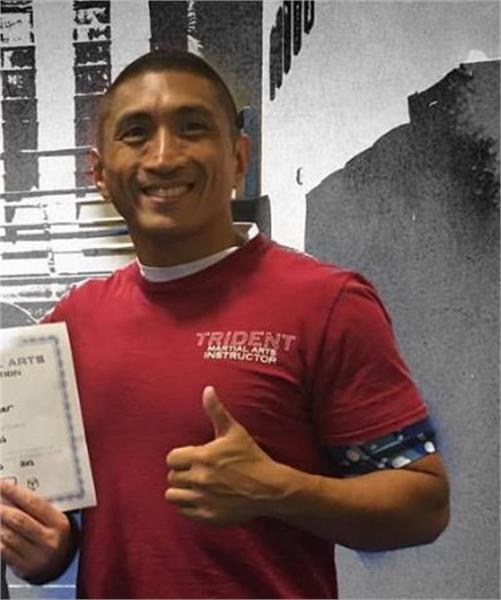 Full Instructor and 5th Degree Black Belt in Trident Martial Arts (Jeet Kune Do, Muay Thai, JTX Kickboxing, USA Combatives)
Khun Khru of Muay Thai, Thai Boxing Association of the USA under Ajarn Surachai Sirisute
MMA and Muay Thai Fighter (stats to be updated soon)
Full Instructor of Filipino Martial Arts under Guro Pat Tray
Jun Fan / JKD Instructor Associate Instructor under Guro Dan Inosanto
BJJ 2nd Degree Black Belt, Rigan Machado Brazilian Jiu-Jitsu and Pat Tray
Coach Jim Imel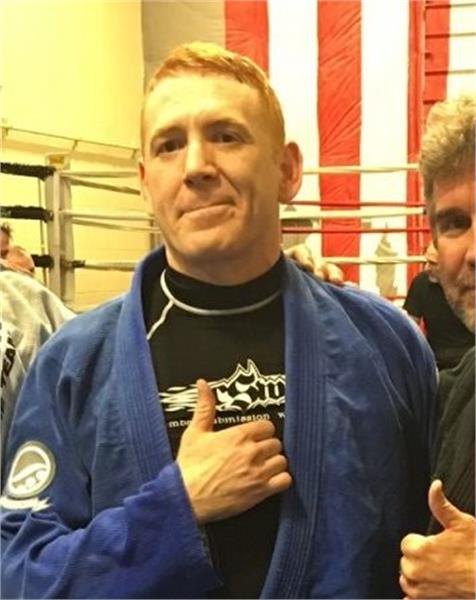 Coach Jim Imel is a Black Belt in Brazilian Jiu-Jitsu under Masters Rigan Machado and Pat Tray.
Jim also holds a Black Belt in the Master Trident Striking program consisting of Muay Thai, Jeet Kune Do, and Jun Fan Kickboxing.
Train BJJ with Coach Jim on Fridays at 6:30PM
Sifu Leonard Stevens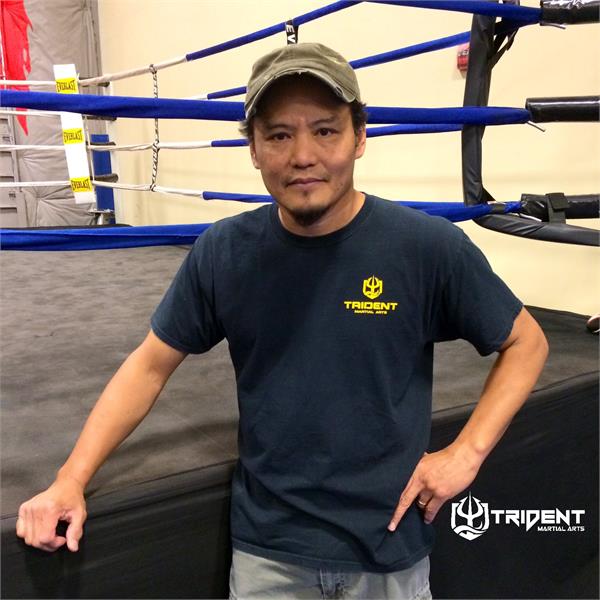 The history of martial arts we teach makes Leonard a valuable source of information. An accomplished professional musician, when Leonard turns his hands to martial arts he provides informative and exciting classes for our students.
Leonard is a Purple Belt in Brazilian Jiu-Jitsu, having trained under the legendary Rigan Machado, and a Senior Full Instructor in JTX under Patrick Tray. His instructing qualifications include Associate Instructor in Jeet Kune Do and Filipino Martial Arts at the Inosanto Academy; and Full Instructor in Jeet Kune Do, Filipino Marital Arts and the Total Defense System at the Trident Academy under Patrick Tray. He is also an instructor in Tai Chi Tan long form.
Coach Becky Bringham
Becky is one of our top Brazilian Jiu-Jitsu instructors for both the kid's competition team and Women's Only BJJ on Monday/Wednesday at 6:30PM.
Black Belt, BJJ under Master Rigan Machado
Combat Submission Wrestling Coach, Full Instructor Qualified under Erik Paulson
Multi-Time Jiu-Jitsu and Submission Grappling Champion (competed in nearly 500 matches)
Sensei Percy Johnson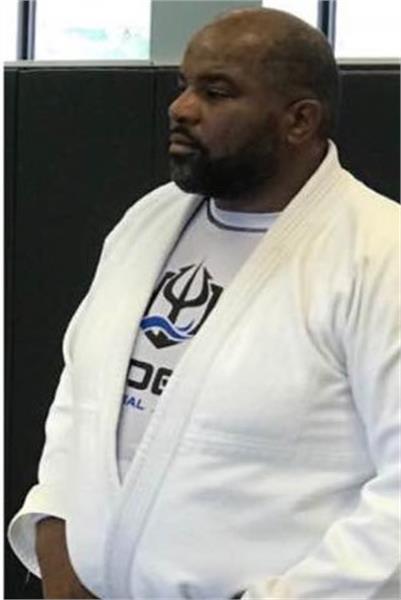 Sensei Percy Johnson holds a Black Belt in the art of Judo.
Percy is also a Black Belt in Brazilian Jiu-Jitsu under Masters Rigan Machado and Pat Tray.
Train with Sensei Percy on Tuesdays at 7:30PM weekly.
Coach Tony Godinez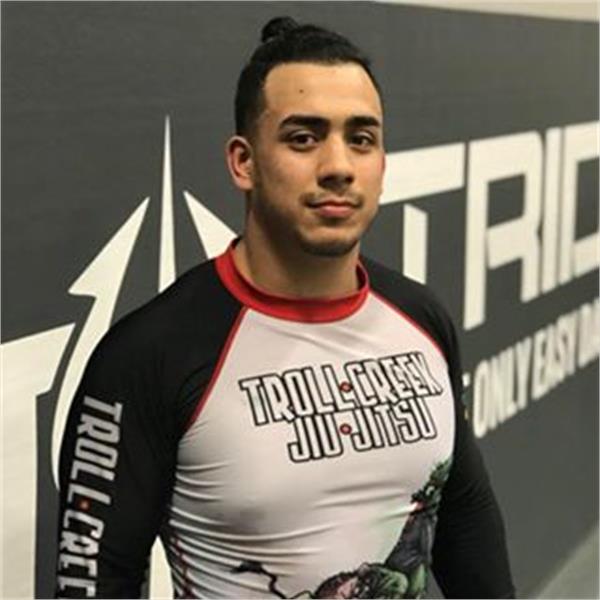 Coach Tony teaches our No-Gi MMA & Submission Grappling class on Thursday evenings at 7:30PM.
He is a Black Belt in BJJ under Master Rigan Machado and Pat Tray.
Marine Corps Martial Arts Program (MCMAP) (Black Belt 1st Degree Instructor)