Kombat Kali by Pat Tray
Picture of Mr. Tray doing a stick lock submission on Jim Conklin at Trident Martial Arts in Woodbridge, Northern VA. We name some of our videos "Kombat Kali" to illustrate the combative side of what Filipino Martial Arts really is. One of the most effective and dangerous systems for surviving in a real world scenario where your life is in danger. As many of you know, Mr. Tray is a Full Instructor under Guro Dan Inosanto in both the Filipino Martial Arts and Jun Fan / Jeet Kune Do Concepts.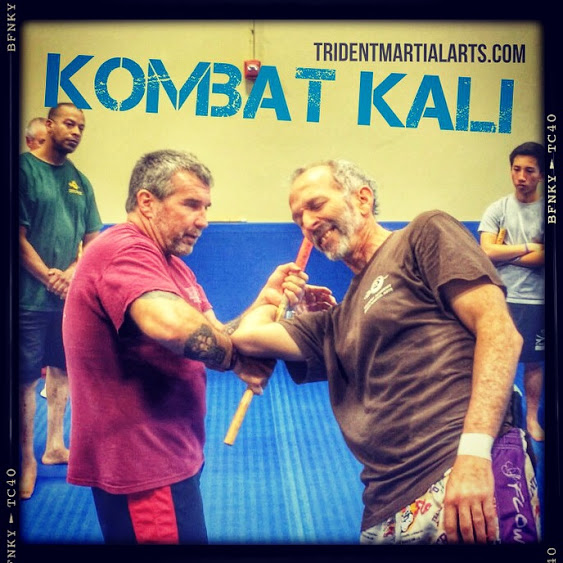 Enjoy some of the videos and images we published this past week.
Trident Social Media Pics and Videos
From our Academy in Woodbridge, VA (Northern VA)
Boxing Drill video from JTX Day Class with Ben Gilbert and Jim Conklin
Arturo showing big right cross JKD/Bruce Lee style!
We offer Jeet Kune Do training here in Woodbridge, VA. Arturo is from Manassas, VA.
Ben Gilbert Jeet Kune Do Trapping
Here's the longer version of the tutorial for the Jeet Kune Do class on YouTube. Again, Ben Gilbert teaching a cool High Low High bridge to get to a high stiff arm reference point, then with the first pak sao (slapping hand) shoots a low shot down low, back to another pak sao to a back fist the flows into a lop sao (grabbing hand) with the hit being a back fist.
Trident Martial Arts on YouTube
Jeet Kune Do, BJJ, Kickboxing, Thai Boxing and More
Junior BJJ Grappling Kids
Trident BJJ Kids
Our kids are showing an Arm bar from Brazilian Jiu-Jitsu, a hammer lock and an omo plata shoulder lock. Our Kids competition team trains Monday-Thursday and Saturdays here in Woodbridge, VA. They compete in tournaments such as the Junior Grappling Association, NAGA (North American Grappling Association).
Trident/RiganMachado BJJ
Picture of Mr. Tray about to work a choke after sweeping his opponent from the guard. Our school is under Rigan Machado Brazilian Jiu-Jitsu. We also have Professor Ivan Rios, a 1st Degree Black Belt under Carlson Gracie, Jr.